History of Torrance University Lodge # 394
Within its long, rich and dynamic history, University Lodge has played an integral role in the support and preservation of Masonry in Los Angeles, California, and around the world for over 100 years. Brothers from every walk of life with extremely diverse backgrounds have come together time after time to spread peace and harmony with that brotherly love and affection which is the cornerstone of Freemasonry.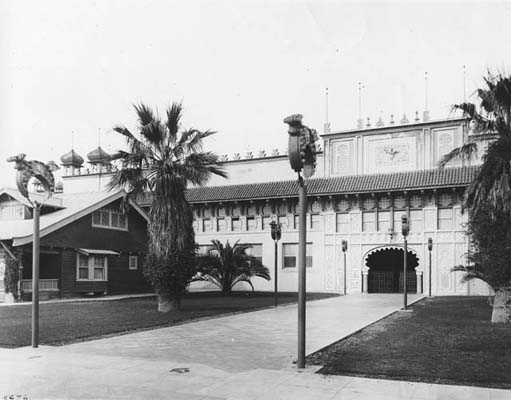 According to history documented in both yearly rosters and the Jolly Fellow, The genesis of University Lodge # 394 occurred on July 10, 1907 when sixteen Masons assembled at 723West Jefferson St. in Los Angeles for the purpose of taking the necessary measures to establish a Lodge of Free and Accepted Masons. One week later, the same group assembled and selected the name UNIVERSITY for their Lodge and began the paperwork necessary for the formation of the new lodge. As the primary inspiration for the vision, a Brother John D. Walker was elected under petition in November 1907 to lead this group of 18 petitioning men and Masons forward. On March 27,1908 dispensation was granted by Grand Master George Perine and attested by Grand Secretary George Johnson. The agreed location for the meetings was 721 Jefferson on Monday nights. In September of 1908 a formal petition for a Charter was made. On October 15, 1908 the Charter was granted and Lodge number 394 was assigned.
On October 30, 1908, University Lodge No. 394 held their very first constitution and installation of officers. The event was reported the next day in the October 31, 1908 Los Angeles Times:
"Constitution and Installation service held on October 30, 1908. It was a joint ceremony involving both Westlake and University Lodges, F and A.M. The Grand lodge was represented by Grand Master Oscar Lawler and Senior Grand Warden Dana R. Weller. This ceremony was also the first official appearance of the Grand Master. The constitution service began with a procession of the officers of the Grand Lodge, followed by a hymn. Short addresses were made by the masters and an eloquent response was given by Grand Master Lawler. Prayers, hymns, presentation of officers and consecration completed this part of the program. In the installation service, there were several selections by a quartette. With the customary ceremonial the installation of masters and wardens was carried out followed by the installation of appointive officers. The exercises were concluded shortly after 10 o'clock, and the adjournment was taken to the banquet hall, where covers were laid for several hundred members and guests."
To further spread their brotherly love and affection, the University decided one of the best ways to keep the many Brothers of University Lodge in contact with each other was to develop a printed trestleboard. Thus, the Jolly Fellow was born and was first issued in the month of January 1917. The first editor of the Jolly Fellow was Brother J. Gillman Bean, with Brother C.H. Von Breton as the Business Editor.
Meetings were regularly held at 721 West Jefferson St. until a new Lodge site was established on February 14, 1914 at 4707½ South Vermont Ave. The Lodge had met at this location until the completion of the new temple building ten years later on the corner of 45th Street and Western in July of 1924. The move to this new and grand Lodge building was documented in the August 1924 Jolly Fellow and is entitled:
"Cornerstone Laying a Dream Come True."
"Saturday afternoon, July 12, at 4 p.m. the cornerstone of the new temple at 45th and Western Ave. was laid by Past Grand Master Benjamin F. Bledsoe with Irving J. Mitchell as master of ceremonies and the following Acting Grand Lodge Officers: Benj. F. Bledsoe, M.W. Grand Master; Russell B. La Fontaine, R. W. Deputy Grand Master, G.A. Skinner, R.W. Senior Grand Warden, K.L. Sinclair, Junior Grand Warden; Francis M. Brock V.W. Grand Treasurer; G.E. Harrison, V.W. Grand Secretary. F.B. Comfort, V.W. Lecturer, Cal Yarnell, W. Chaplain; Will H. Fisher, Grand Orator; J.K. Marsh, Assistant Grand Secretary; J.A. Cowan, Grand Marshal, E.A. Brown, Grand Standard Bearer; J.C. Netz, Grand Sword Bearer; J.F. Rowans, Grand Bible Bearer; M.Q. Steward, Senior Grand Decon; W.J. Smith, Junior Grand Decon; E.G. Norberg, Senior Grand Steward, W.A. Scott, Junior Grand Steward; G.H. Millard, Grand Pursuivant; F.W. Wilking, Grand Organist; T.A. Dale, Grand Tyler; A.E. White, Chief Architect; C.M. Gale, Corn; W.S. McFadden, Wine; and S.E. Roda, Oil. The Grand Lodge was opened in due form in our present location and then moved to 46th and Western Ave. where a parade was formed and then marched to the Temple. A company of Los Angeles Commandery No. 9 Knights Templar under the command of Frank Geron headed the procession as the escort to the Grand Master, then followed the members of the University and Vermont Square Lodges , then the Grand Lodge Officers. Ivring J. Mitchel, the First Master of University, in a few well chosen words invited the Grand Master to proceed with the ceremony, which was consummated according to the beautiful designated custom of the Grand Lodge of California. The Grand Lodge then returned to the Lodge Room and was there closed. The Dinner and entertainment given at the Ebell Clubhouse was a great success. As we could only seat 150 at dinner at one time, it was necessary to have three sittings, so now you see what a wonderful turnout we had."
According to the Jolly Fellow, the move to 4508 South Western Ave. was completed in December of 1924, and the official dedication of University Lodge by the Grand Lodge of California occurred on May 15th, 1926, and was presided over by Most Worshipful William H. Fischer, Grand Master, California F & A.M.
The Lodge at 45nd and Western has been described by past members as a Jewel of Masonry, with a huge kitchen and even larger dining area. The ante-Room and Main Lodge room were described as being the envy of lodges everywhere, with stately marble pillars adorning its walls which were further complimented by an Estey Opus Pipe Organ # 2520 From the Estey Pipe Organ Company which was installed in 1926. There was also a smoking lounge, large pool room, and several shops at street level to assist in bringing in revenue for the Lodge. Two of these Businesses were Harvey's Butcher Supplies and Southland Florist.
During her early years, University Lodge had never lost sight of the allegiance due to her country. After the United States entry into WWI on April 6, 1917, the Lodge's secretary had made it a high priority to make sure an accurate list of members entering the armed forces in "defense of Democracy" was kept. This list grew from three names noted in the July 1917 Jolly Fellow to over 25 names until the war ended on November 11, 1918. Throughout the war, the ever-growing list of names on the "Roll of Honor" was posted in the Tyler's room every Monday night. A star placed by their name indicated the dropping of their working tools to be called from labor. The first casualty of the war was listed in the October 1918 Jolly Fellow and is entitled: "Our First Gold Star."
"The first brother from University Lodge, and also the first if his regiment to give his life, Captain Will H. Flood, personnel officer of the 364th Infantry, has been buried 'somewhere in France' according to information received by his widow, Mrs. Jean Flood of 1612 Maple Ave. Letters from brother officers to the widow state Captain Flood died August 13 after an illness of several weeks. His last sickness, it was stated, was contracted while making the trip overseas. 'He fought stubbornly to recover, but in vain. Everything in the power of the physician was done to save him, for we loved and admired him so,' wrote a fellow officer. Captain Flood was 35 years old and was born and reared in Los Angeles. He attended the first officers training camp at the Presidio and received his commission there. Bro Flood was initiated into University Nov. 27, 1909; Passed Dec. 27, 1909 and raised Feb. 28, 1910."
At the beginning of World War II, University Lodge had once again made sure she had not lost sight of the allegiance due to her country. A second Honor Roll was started March 1942 in the Jolly Fellow with the names of five Brothers listed.
Due to skyrocketing maintenance costs and drastic demographic changes occurring in the area, it was decided in 1964 that University Lodge could no longer keep up with the funds necessary to maintain the building at 46th and Western, and had agreed to sell it. It was sold to the Prince Hall F & A.M. of California in 1964, and is currently occupied by Cedars of Lebanon 65, Prince Hall Lodge of Free and Accepted Masons.
After leaving their home of 40 years, University Lodge had found a new home at the Torrance Masonic Center in the City of Torrance and held meetings there until 1995 when Torrance Lodge #447 and University Lodge #394 had entered into negotiations to merge the two lodges. In multiple meetings between Torrance Lodge's Worshipful David Peterson, Worshipful Fred Hanson, and Brother Howard Orr, and University Lodge's Worshipful Charles Thompson, Worshipful Ben Navarro and Worshipful Thomas Reoch, it was decided that the name for the new Lodge would be Torrance University, and would adopt University's number 394. Both groups then presented the merger to their respective Lodges in which the vote was returned unanimously from both lodges in favor of the merger.
Today, Torrance University Lodge #394 stands as proud and strong as she did the very first day of her inception on October 15, 1908. It is without question that this Band of Brothers will continue to spread the brotherly love and affection so critical to the survival of Masonry for many years to come.
Other Significant Milestones of University Lodge
1958 – University Lodge held its 50 year anniversary with Gerald H. Brown installed as Worshipful Master.
1978 – Louis G. Rudolph – First Hiram Awardee
1983 – University Lodge celebrated its Seventy Fifth Anniversary Year with Worshipful Carl Kildoo installed as the 75th Master on January 22, 1983.
Notable Members of University Lodge
Brother George C. Watson, Assemblyman, 72nd District, State of California. Early 1900s.
Ralph Emerson Davis, Deputy L.A. City Clerk – Raised to the sublime Degree of Master Mason via the City Hall Degree Team January 22, 1917.
**It may be noted that during this era of Masonry in Los Angeles, many of the large entities in the City had their own special degree team, such as The Union Degree Team, (Union Railroad), and the Edison Degree Team (Edison power and water).
Brother Chester Cooper Conklin – Actor -Keystone Cop – raised Sept. 18, 1916.
Bro. H. Guy Woodward – Stage and Screen Actor and Comedian.
Most Worshipful Myron E. Smith, P.M. of University Lodge and M.W. Grand Master, F & A.M. of California and Hawaii, 1941.
Worshipful Elito Santarina, P.M. City of Carson Councilmember and Past Master of Torrance University Lodge.
Bro. Roderick Toombs, AKA "Rowdy Roddy Piper" Actor, professional wrestler. The only wrestler to be initiated into both professional wrestling halls of fame. Currently an Entered Apprentice Mason.
Torrance University Lodge Notable Persons
Brother Sidney Torrance, Charter Member of Torrance Lodge and founder of the City of Torrance, CA.
As an interesting note in the history of Torrance Lodge, the Lodge had lost it's first Brother to war on July 18, 1918. Brother Clyde Chester Blaine of Lomita, CA. was stationed aboard the USS San Diego on the 18th of July 1918 when at 11:23 a.m. an explosion occurred on board while en route from Portsmouth, New Hampshire to New York crippling the ship's port engine. After the initial explosion the alarm was sounded for submarine defense quarters. Immediately following the initial explosion two additional explosions had ripped thru the hull of the ship. After these series of explosions the ship began taking on water and had been run aground by her captain, and eventually sank after all personnel were evacuated. It was later discovered that the second set of explosions was due to a boiler rupture igniting one of the ammunition magazines on board.
As a tragic result of this incident, six sailors had lost their lives. One of them was Brother Blaine.
The primary cause of the first explosion was officially listed by the US Navy as damage sustained due to a mine laid by a German Submarine, U-156. But it was later discovered through research by a Dr. Russell Van Wyk that within a 70 page Soviet report he had been able to view there were German documents recording the 1945 interrogation of German Spy Kurt Jahnke and his wife Johanne-Dorotheja, in which Jahnke testified that he had arranged for one of his agents to place explosives in the boiler room of the USS San Diego during WWI, which ultimately led to her demise, and the death of Brother Blaine.
To this day the US Navy denies this account and stands by the original mine theory.
It is also of note that the USS San Diego was also the only major warship lost by the US Navy in WWI.
By: Bro. Byron Burkhardt
References:
Website – http://www.militarymuseum.org/USSSanDiego.html.
Briggs, Mark. Why She Sank. http//research.unc.edu/endeavors/win99/ship.htm