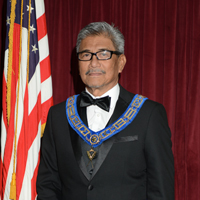 Hi Brethren,
Time really flies by so fast that we are now on the third month of the year. Our lodge was busy with activities last month. The Stated Meeting and Fellowship last February 6, the All You Can Eat Breakfast Fund Raiser on February 11, and our Valentine's Day Celebration on February 13 were all successful and well attended.  Congratulations to all the Officers and Members who had planned for these events.
The Grand Master has declared March 2017 to be Youth Order Month in California and April 2017 to be Public School Month. Let us support our Masonic Youth.
Easter is also around the corner. Our yearly activity is to prepare Easter baskets and Easter eggs for the needy children through the Midnight Mission.  This year will be on April 16th at the Easter Sunday Street Fair.
We have more activities coming in the next 2 months and on behalf of the Master and Officers of the lodge, we are cordially inviting you to attend and support all the our activities below.
"Come One Come All"
Mar 5 : Grand Master's Breakfast hosted by the Masonic Service Bureau of  Los Angeles
Mar 6: Stated Meeting and Inspector's Official Visit and also St. Patrick's Day Celebration
Mar 24: 636th Masonic District OSI at Gardena Moneta #372 – 2nd Degree Complete
Apr 3: Stated Meeting and Fellowship
Apr 24:  636th Masonic District OSI at Torrance University Lodge #374 – 2nd Degree Complete
At this time, the lodge wants to thank all the brethren who have remitted their annual dues for this year and also to remind the brethren who forgot to remit their dues to please support our lodge with this obligation by sending your 2017 dues.
Lastly, if you have changed or planning to change your contact number, email address or home address, please text or email it to me at:
562-547-2907
jessmed10@yahoo.com
"Let Us Support Our Lodge"
Fraternally,
Jesse Medina